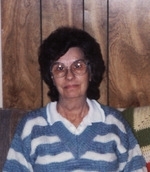 Mary Evelyn Owens Howe, 93 of Leonardtown, MD passed away on October 24, 2016 at her residence. Born on January 3, 1923 in Morganza, MD she was the daughter of the late Gertrude (Wathen) Owens and Moses Owens. Evelyn was a lifelong St. Mary's County, MD resident and was a homemaker.

Mary was the loving wife of the late John Sheldon Howe Sr. who preceded her in death on August 3, 1986. Evelyn is survived by her children: John Sheldon Howe, Jr, (Doris) of Hollywood, MD, Dorothy M. Skok of Great Mills, MD, James F. Howe (Ellen M.) of Hollywood, MD, Betty L. Greenberg (Mark) of Hollywood, MD, Susie H. Russell (Bobby) of California, MD, 13 grandchildren, 11 great grandchildren and 4 great great grandchildren, sister; Theresa Wathen of Leonardtown, MD. She was preceded in death by her children; Maryann Shaw and Paul T. Howe, sister Elsie Burch and 14 brothers and siblings.

The family will receive friends on Friday, October 28, 2016 from 10:30 Am - 11:30 AM in the Mattingley-Gardiner Funeral Home, Leonardtown, MD. A Mass of Christian Burial will follow at Noon in St. Aloysius Catholic Church Leonardtown, MD with Father David Beaubien officiating. Interment will follow in Charles Memorial Gardens Leonardtown, MD.

Pallbearers will be: Bobby Russell, Robert Russell, Bill Hester, Jr., Jeff Bennett, Mikie Russell, and Robbie Russell. Honorary Pallbearers will be: Kyleigh Bennett, Evan Bennett, Roger Hester, John Howe, III, James Howe, Wally Howe, and Paul Howe.
Contributions may be made to Hospice of St. Mary's P.O. Box 625 Leonardtown, MD 20650. Arrangements by Mattingley-Gardiner Funeral Home.