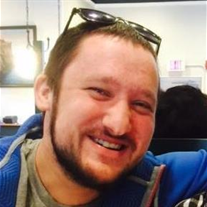 Daniel E. McPherson of La Plata, Maryland died on October 21, 2016 at University of Maryland Medical Center in Baltimore, MD. He was 26 years old. Born on October 28, 1989 in Silver Spring, MD he was the son of Charles W. McPherson and Dana J. McPherson. In addition to his mom and dad, Daniel is survived by his siblings Andrea and her husband June Sim, Michael and Dylan McPherson; his nephew Noel J. Sim.

Daniel was a college student who enjoyed riding his many scooters, taking things apart and putting them back together, watching Pawn Stars and Jeopardy, antique shopping with his dad, eating out, and spending time with anyone and everyone chatting.

A visitation will be held on Tuesday, October 25, 2016 from 9:30 AM to 11:30 AM with Services to begin at 12 Noon at New Life Church (Dome Building) 9690 Shepherds Creek Road La Plata, MD 20646. A private interment will be held later at Union Cemetery in Burtonsville, MD. Memorial contributions may be made to the Testicular Cancer Society, NAMI (National Alliance on Mental Illness), or CRMC (Charles Regional Medical Center Foundation). Arrangements by Raymond Funeral Service.