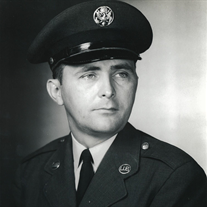 James Rankin "Jim" Chedester, 85 of Waldorf, Maryland died October 19, 2016. He was the son of Kore Queen Chedester and Elsie Ann Rhodes Chedester. In addition to his parents, he was predeceased by his son, Timothy Allen Chedester.

Jim was a retired Master Sgt. with the U.S. Air Force and was a member of Whitehall Baptist Church in Accokeek, Maryland. After retiring from the Air Force, he was a Lt. for West Virginia University Security, head security for Intelsat in Washington, DC, and also worked for the Driggs Corporation in Capitol Heights, Maryland. He also helped with Meals on Wheels, mentorship with Charles County Public Schools, was a Deacon and softball coach with his church, and loved being with family, especially his grandchildren.

He is survived by his sons, James Rankin Jr. and wife Jill and Woodrow Thomas Chedester; his daughters, Kimverly Diane Sands and husband John and Beverly Carol Greene and husband Bob; his brother, Lewis Spencer Chedester; and his sister, Rosemary Born. He is also survived by 21 grandchildren and 27 great-grandchildren.

Friends received on Wednesday, October 26, 2016 from 5-8PM at Raymond Funeral Chapel, 5635 Washington Avenue, La Plata, Maryland 20646. Additional visitation on Thursday, October 27, 2016 from 10AM until Funeral Service time at 11AM at Whitehall Baptist Church, 1205 Farmington Road East, Accokeek, Maryland 20607. Interment at a later date with full Air Force Honors at Arlington National Cemetery. In lieu of flowers, donations may be made to Hospice of Charles County, 2505 Davis Road, Waldorf, Maryland 20603. Arrangements by Raymond Funeral Service.