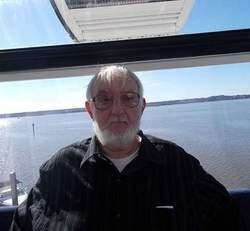 Roger Keith Bennett, 74, of Great Mills, MD died October 15, 2016 at MedStar St. Mary's Hospital in Leonardtown, MD after a courageous battle with Chronic Obstructive Pulmonary Disease. He was born on October 10, 1942 in Middleport, OH to the late Ralph Lee Bennett and Phyllis May McDaniel.

Roger started his career as a teenager working in the town movie theater running the films every evening and on weekends. Later he was asked to join the radio station and work as an apprentice for the station. He earned his Broadcasting Engineer Certificate after studying and taking the technical examine, earning a license to practice. He worked for many companies travelling throughout the country.

In his travels he was able to meet many famous people including President Ronald Reagan and radio and television announcers. He was a big Buckeyes and Notre Dame Fan. He was proud to have set up the broadcasting for one of the Notre Dame games. He enjoyed travelling, was a devote Catholic and sponsored his companion when she became a Catholic. He was a member of St. Aloysius Catholic Church.

Roger is survived by his children: Amy Estep of West Monroe, LA, Rocky Bennett of Spencerville, OH, Eric Bruce Bennett of Lima, OH, Jill Bennett of Bryan, OH, Sunshine Miller of Ithaca, NY, Jennifer Vivas of Monroe, LA, Lisa Pryor of Herriman, UT; seven grandchildren; his loving partner, Gail Hunborg of Great Mills, MD; and many extended family and friends. He is preceded in death by his parents.

On Thursday, October 20, 2016 at 4:00 p.m. a Memorial Service will be celebrated by Reverend David Beaubien at St. Aloysius Catholic Church, 22800 Washington Street, Leonardtown, MD 20650. Interment will be private. Memorial contributions may be made to Lexington Park Volunteer Rescue Squad, P.O. Box 339, Lexington Park, MD 20653. Arrangements by the Brinsfield Funeral Home, P.A., Leonardtown, MD.