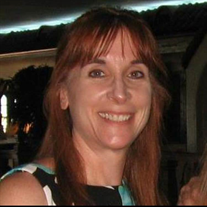 Pamela Jean Busler, of Dunkirk, MD passed away on Sunday, October 16, 2016, at the Anne Arundel Medical Center, at the age of 52. She was born in Pittsburgh, PA, on January 4, 1964 to Mary Elizabeth (Didion) and Charles F. Dillon.

Pamela enjoyed shopping, especially for clothes, and reading James Patterson and Jodi Picoult novels. When Thanksgiving rolled around, Pam started baking her famous Christmas cookies. The family really enjoyed this tradition, because they were usually still eating them long after Christmas.

Pamela worked as a Security Manager and was selected by her company to go to England to establish a new office.

She was the beloved wife of Michael E. Busler and the loving mother of Chelsea D. and Alexis C. Busler. She was the sister of Linda Sterley, Patte McElhoes, Ronald Dillon, Debra Lyons, Teresa Lowman, Donna Crawford and Matthew Dillon. She is preceded in death by parents Mary E. (Didion) and Charles F. Dillon.

In lieu of flowers, memorial contributions may be made in Pamela's memory to: American Cancer Society, P O Box 22718, Oklahoma City, OK 73123. Arrangements by Lee Funeral Home.