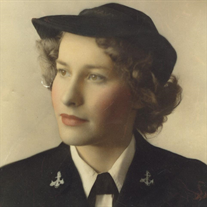 Pearl Edna Fraser, 95, passed away on October 13, 2016 at her home in Newburg, Maryland. Pearl was born to a farming family in Carey, Idaho on December 10, 1920. After the early death of her father, she moved to Boise, Idaho, where she graduated from high school and earned a degree from a business college.

During World War II, Pearl joined the United States Navy. She was very proud of her contributions, which included interpreting and documenting coded messages from overseas units. She served in a number of Navy offices in Washington State, California, New York City, and finally in Washington, D.C. Her rank was Yeoman 2d Class at the end of the war.

After the war she worked as a civilian employee of the Veterans Administration and then the United States Air Force Chart Service, where she met her future husband, John Fraser. John and Pearl were married in Boise in 1951 and thereafter lived in Cabin John, Maryland for 31 years. They raised five children (Katherine, John, Patricia, Elizabeth and James). Pearl was an active member and Sunday school teacher of the Glen Echo Baptist Church. After raising the children, Pearl returned to work and held positions as an Executive Secretary at the David Taylor Model Basin and Defense Mapping Agency.

In 1982, Pearl and John retired from federal service and moved to Newburg, Maryland. Over the years, she enjoyed her growing family that included 11 grandchildren and 5 great-grandchildren. During the early years of retirement, Pearl and John traveled to much of the American West, to Canada, Alaska, Korea, Hawaii, and Scotland. Pearl was also an active gardener, and her friends and family will always remember her love and great knowledge of plants and flowers.

Pearl's husband, John Fraser, died in February 2015 after 63 years of marriage. She is survived by her five children, 11 grandchildren, and 5 great-grandchildren. After a memorial service, Pearl will be buried with her husband at Arlington National Cemetery. In lieu of flower arrangements, the family requests that donations be made to Hospice of Charles County, 2505 Davis Road, Waldorf, Maryland, 20603. Arrangements by Raymond Funeral Service.