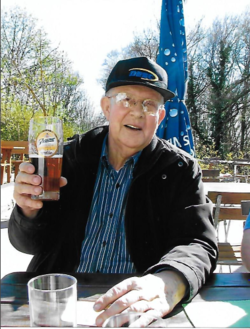 Herbert Otto Proksch Sr., 77, of Hughesville, MD, passed away peacefully on October 14, 2016 at his residence in Hughesville, MD. Herbert was born to the late Franz & Emma Martha Proksch on June 12, 1939 in Bennisch, Germany.

Herbert served 28 years in the United States Air Force. He was part of the elite1% of the military enlisted to earn the rank of Chief Master Sergeant. After retirement, He worked another 20+ years for the Department of Defense as a Military Fuel Specialist. He was able to see the world with his career- traveling was a passion that he enjoyed. He has been to every state in the US, Canada, South America, Diego Garcia, Iceland, Greenland, and almost every European county.

Herbert's life was dramatically affected by WWII. His father was a soldier and never returned home from the war- MIA. Herbert's oldest brother passed away at a young age in Germany. Herbert, his mother, and brother Otto, left Germany by boat to come the United States to create a new life in 1956. Herbert was 17 years old. He joined the Air Force a few months later.

Herbert was predeceased by his brothers, Otto Proksch and Gunter Proksch. He is survived by his loving devoted wife of almost 49 years, Josefine Proksch; son, Herbert O. Proksch, Jr. (Spouse, Samantha); daughters, Renee Gilday( Spouse, Joseph); Bianca Ruslander (Spouse, Loren); Tanja Proksch; grandchildren, Michael Therrien, Colin Gilday, Elizabeth & Steven Hines, Briana Raphel, Kasey & Kristina Proksch, Alexis, Jacob and Ryan Ruslander; and great grandchild, Lelia Rose Hines.

Family will receive friends for Herbert's Life Celebration on Friday, October 21, 2016 from 5 to 8pm with Prayers at 7pm. A Mass of Christian Burial will be on Saturday, October 22, 2016 at 10AM at St. Dominic's Catholic Church, 22300 Aquasco Road, Aquasco, MD 20608 with Father Thomas Gude officiating. Interment with Full Military Honors will be at Arlington National Cemetery at a later date.

In Lieu of Flowers please send a donation to St. Dominic's Church, C/O - St. Michael's Church, 17510 Horse Head Road, Brandywine, MD 20613. Please note in honor of Herbert Proksch Sr. or Charles County Hospice 2505 Davis Road, Waldorf, MD 20603. Arrangements by Brinsfield Echols Funeral Home.