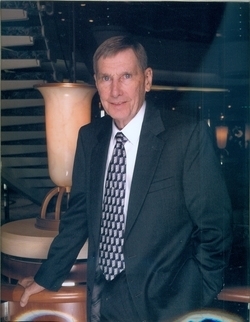 Bernard Howard "Buddy" Norris, 83, of Bryantown, MD passed away at his residence in Bryantown, MD on October 12, 2016. Buddy was born to the late Howard Matthew Norris and the late Ann Dawson Perry Norris in Washington, DC on October 7, 1933.

Buddy began his career as a car wash owner and then became a long-time businessman in LaPlata, with investments in residential and commercial real estate. His hobbies included flying small airplanes, fishing, marksmanship (guns), and financial investing. He was a certified gemologist, as both a hobby and a business. Buddy was a member of the AOPA (Aircraft Owners and Pilots Association). As a devoted follower of Jesus Christ, he was a member of Land of Lights Fellowship in Charlotte Hall, MD. Finally, he loved spending time with his family.

Buddy is survived by his loving wife, Paula Jean, his daughters, Jean Leidner (Gordon); Kim Sawyer (Bob), Bronna Kahle (Pat); brothers, Howard Norris, Joseph Norris; sisters, Ann Richter, Mary (Susie) Richards, Patty Pickeral; ten grandchildren and seven great grandchildren.

Family will receive friends for Buddy's Life Celebration on Monday, October 17, 2016 from 5pm to 8pm at Brinsfield-Echols Funeral Home, P.A., 30195 Three Notch Road, Charlotte Hall, MD 20622. A Funeral Service will be held on Tuesday, October 18, 2016 at 11:00 AM at Brinsfield-Echols Funeral Home in Charlotte Hall, MD, followed with interment at Sacred Heart Cemetery, La Plata, MD 20646. Arrangements by Brinsfield-Echols Funeral Home.