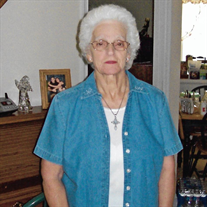 Mary Catherine Tayman, 77, of Huntingtown, MD passed away on Monday, October 10, 2016, surrounded by her children. She was born on October 17, 1938 in Washington, DC, the daughter of the late Herbert Wendell Hayes and Mary Elizabeth Hayes. Mary was preceded in death by her husband of 35 years, Erasmus Losh, her second husband Paul Tayman and brothers Joseph and John Kelley.

To all who knew her, Mary enjoyed crocheting, spending time with her family and traveling to see her children in North Carolina and Arkansas. A birthday or special occasion would not pass without a call or card from her. Mary loved her family and their friends; anyone they loved or cared for, she loved as well. She took great pride in reaching out to make everyone feel special and included.

She is survived by her children, Donna Carpenter and her husband Charles of Hamburg, AR, David Losh and his wife Julie of Leonardtown, MD, Dorothy Weathers and her husband John of Huntingtown, MD and Douglas Losh of Lothian, MD. She was the grandmother of eight grandchildren, Stacey Martin and her husband Kevin, Christopher Taxiera, Michael Taxiera and his wife Kimberly, Daniel Weathers and his wife Amber, Julie Weathers, Steven Losh, Emily Losh and John David Losh. Mary was the proud great-grandmother of four great-grandchildren, Dominic and Ava Weathers, Jackson Taxiera and Lilliana Losh. She was the sister of Thomas Hayes, Jimmy Kelley, Shirley Marshall and Norma Cranford.

In lieu of flowers, memorial contributions may be made in her memory to the Calvert Hospice, P O Box 838, Prince Frederick, MD 20678 or St. Jude Children's Research Hospital, P O Box 1000, Dept. 142, Memphis, TN 38101-9908. Arrangements by Lee Funeral Home.

Mary, your bright smile and loving heart will be remembered by all who knew you.