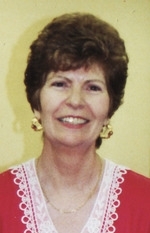 Mary "Rosalie" Carpenter, 75, of Mechanicsville, MD passed away on October 6, 2016 in Leonardtown, MD. Born August 9, 1941 in Leonardtown, MD, she was the daughter of the late Mary Elizabeth and Frederick Carl Gray.

Rosalie was the loving wife of the late Howard Francis Carpenter whom she married on October 5, 1960 in Hyattsville, MD and preceded her in death on May 19, 2002.

Rosalie is survived by her children; Dale (Tina) Carpenter, Randy Carpenter, and Timmy (Dawn) Carpenter all of Mechanicsville, MD, siblings; Tommy (Pat) Gray of Hollywood, MD, Charles (Wilma) Gray of Missouri, William B. (Joyce) Gray of California, David (Mary) Gray of Hollywood, MD, Ralph (peewee) Gray of Mechanicsville, MD and Peggy Berry, 7 grandchildren and 2 great-grandchildren. She was preceded in death by a brother Jimmy Gray.

Rosalie graduated from Margaret Brent High School in 1960, she was a secretary for SMECO for 33 years retiring in 1997. Rosalie enjoyed dancing, walking and gardening.

The family will receive friends on Monday, October 10, 2016 from 5:00Pm to 8:00PM in the Mattingley-Gardiner Funeral Home. A Funeral Service will be held on Tuesday, October 11, 2016 at 12:30 PM in the Funeral Home Chapel with Pastor Jim Wickham officiating. Interment will follow in Charles Memorial Gardens, Leonardtown, MD.

Pallbearers will be; Wayne Carpenter, Kyle Carpenter and Cal Carpenter. Memorial contributions may be made to the Mechanicsville Volunteer Rescue Squad, P.O. Box 15, Mechanicsville, MD 20659. Arrangements by Mattingley-Gardiner Funeral Home.