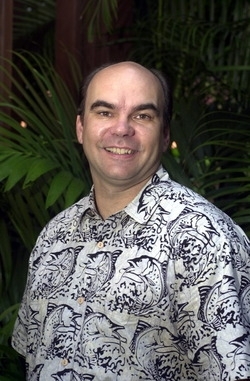 Timothy Edward Meyer, beloved husband and father, died peacefully at home on October 6, 2016, in Leonardtown, MD surrounded by his family, after a long illness. Born in Milwaukee, Wisconsin on August 3, 1962 to John R and Kathleen Meyer.

Tim grew up in Wauwatosa as an ardent Packer and Badger fan. He attended Wauwatosa East High School and then graduated from the University of Wisconsin and was commissioned as a Second Lieutenant, US Marine Corps. Tim served on active duty for 8 years, deploying to Okinawa, Korea, Iraq and Somalia. He then worked for a short time in manufacturing before moving to the enterprise resource planning system consulting business; working for KPMG, Bearing Point and Deloitte, where he was a principal at the time of his death.

Tim was a dedicated father, involved in many expeditions and adventures with his son, Sam. It was on an assignment in southern Maryland that he met his wife Jennifer; they are the proud parents of their daughter, Blake, to whom Tim was a doting father.

Predeceased by his parents and father-in-law Ed, Tim is survived by his loving wife Jennifer; his wonderful children Sam and Blake; siblings, Greg (Betty), Faye and Colleen, mother-in-law Lynne; brother-in-law Chris (Dawn); and nephew and nieces, JP (Kristin), Bridget and Carly.

Family will receive friends for Tim's Life Celebration on Tuesday, October 11, 2016 from 10:00 a.m. to 12:00 p.m., with a Service of Remembrance at 11:30am. at Brinsfield Funeral Home, 22955 Hollywood Road, Leonardtown, MD 20650. A Mass of Christian Burial will be celebrated at 1:30 p.m. with Reverend Brian Sanderfoot at St. Aloysius Gonzaga Catholic Church, 22800 Washington Street, Leonardtown, MD 20650. Interment will be private.

Serving as pallbearers will be Sam Meyer, Greg Meyer, J.P. Meyer, Chris Blake, Tab Warlitner, and Geoff Stothard. Memorial Contributions may be made to Badger Marine Memorial Association, 555 East Main Street, Suite 1212, Norfolk, VA 23510. Arrangements by Brinsfield Funeral Home.