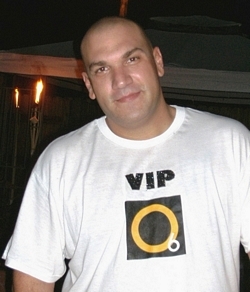 Gilberto DaSilva Jr., 39, of St. Leonard, MD passed away on October 5, 2016. Gilberto was born on August 25, 1977 in Manhasset, NY to Gilberto DaSilva Sr. and Dilma Rinaldo.

Gilberto was a man who was a singer of romantic songs and a great musician. He also lived in Brazil, Ft. Lauderdale, FL., and Houston, TX.

He is survived by his wife Sabrina Sens; a loving father to Lucas and Matthew DaSilva, his father Gilberto DaSilva and his wife Maru, Dilma Rinaldo and her husband Charles. He is also survived by his sister Anik Sales and her husband Javier, and brothers Christopher D. DaSilva and his wife Daria, Russell G. Rinaldo.

A memorial service will be held at a later date at Jesus the Devine Word in Huntingtown, MD. Arrangements entrusted to the Rausch Funeral Home of Port Republic, MD.