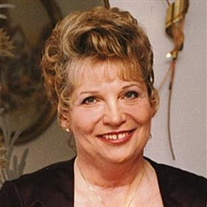 Shirley Mae Gregory of Gretna, Virginia, formerly of Southern Maryland, died on October 5, 2016 at Piedmont Hospice in Charlottesville, VA. She was 63 years old. Born on November 17, 1952 in Frederick, Maryland, she was the daughter of the late Nelda Ruth McMannis and Carl Edward Williams Sr.

Shirley loved music, especially Bluegrass and the Beatles, and was a talented Mandolin player. She enjoyed fishing, cooking, and baking. And her greatest love was of her family. Her kind heart and loving ways will always be cherished.

In addition to her parents, she was preceded in death by her first husband of 20 years, Charles Lewis Thompson Sr.; her granddaughter Katie Haizlip; her siblings, Jimmy Williams, Katherine "Kay" Nichols and Carl Edward "Buster" Williams Jr.

She is survived by her husband of 20 years, James R. Gregory; her children Cynthia Ann Nelson and her husband Jay, Jennifer Lynn Schwartz, Charles L. Thompson Jr. and his wife Renee; grandchildren Chelsea Haizlip, Melanie Thompson, Olivia Schwartz and Carlie Thompson; great grandchildren Layla and Henry Tennyson; sister Alma Rawlings; step-children Steve Gregory, Andy Gregory, and Catherine Van Wyhe and her husband David; step-grandchildren David, Donald and Daniel Van Wyhe; step great granddaughter Bryar Doss.

Visitation Monday, October 10, 2016 from 10:30 AM until time of service to begin at 12 Noon at the Raymond Funeral Service, P.A. 5635 Washington Avenue La Plata, MD 20646. Interment to follow at Trinity Memorial Gardens in Waldorf, MD.

Pallbearers are Tommy Thompson, Melanie Thompson, Charles L. Thompson Jr., Dennis "D.J." Brady, Bobby Thompson, and Greg Tennyson. Honorary Pallbearers are Ronnie Thompson, Johnny Armsworthy, Allen Nichols and Eddie Rawlings.

Memorial contributions may be made to Hospice of the Piedmont Attention: Development Office
675 Peter Jefferson Parkway, Suite 300 Charlottesville, VA 22911. Arrangements by Raymond Funeral Service.