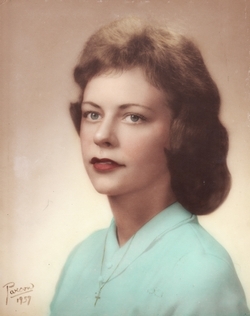 Dianne Lee Pogue, 74, of Bushwood, MD formerly of Erie, PA, passed away on October 2, 2016 in Leonardtown, MD. Born March 22, 1942 in Erie, PA she was the daughter of the late Johanna Woodard Osborne and Richard Osborne. Dianne was the loving wife of the late Robert S. Pogue who preceded her in death on August 22, 2015.

She is survived by her children; Deborah (Jeff) Kinsland of Millington, TN, Kevin (Kelly) Kosack of Leonardtown, MD, Kimberly Kosack of Bushwood, MD, Tracy (Sandy) Pogue of Bemidji, MN, Timothy (Stephanie) Pogue of CA, and Terry (Helena) Pogue of Bushwood, MD, siblings; James Lacey of Cranberry, PA, and Carol Gorniak of Waterford, PA, 9 grandchildren and 6 great-grandchildren She was preceded in death by a brother; Charles Lacey.

Dianne graduated from Academy High School in 1960, she moved to St. Mary's County in 1968, and was a receptionist for Walden Sierra for many years. Dianne was a member of A.C.T.S. and also volunteered for them. She was an artist and enjoyed teaching art, especially to her younger students the Two Maddie's.

A Memorial Service will be held on Saturday, October 8, 2016 at 10:00AM in All Saints Episcopal Church, Avenue, MD with Reverend Harry Harper officiating. Interment will follow in the church cemetery. Pallbearers will be: Benton Burch, Bernard Bailey, James Lacey and A.J. Lacey. Memorial contributions may be made to A.C.T.S. (A Community that Shares) P.O. Box 54, Bushwood, MD 20618. Arrangements by Mattingley-Gardiner Funeral Home.