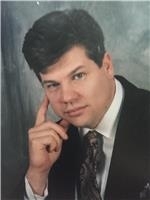 Scott Lee Boatman, 53, of Waldorf, MD passed away on Thursday, September 29, 2016. Scott was born on December 20, 1962 to Bill Boatman and the late Hazel Boatman.

He was preceded in death by his mother and brother, Traye W. Boatman. Scott is survived by his father, Bill Boatman; children, Brooke, Breanna and Brandon; his brothers, Demetrious Patterson, John Patterson and Rusty Boatman.

Viewing will be held on Friday, October 7, 2016 from 4:00 pm - 5:00 pm at Briscoe-Tonic Funeral Home, 38576 Brett Way, Mechanicsville, MD. Interment will be private. Arrangements by Briscoe-Tonic Funeral Home.