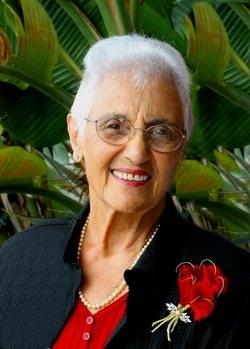 Sonia Di Tommaso Cucinotta, 88, of Leonardtown, MD died September 27, 2016 at St. Mary's Hospice House in Callaway, MD. She was born on January 18, 1928 in Abruzzi, Italy to the late Loreto Di Tomasso and Angela Pierri Di Tommaso.

Sonia grew up during the battles of Anzio during World War II. She met and married her beloved husband, Marco Cucinotta on April 11, 1948 in Saint Benedict's Catholic Church, Pomezia, Italy. It was the only Catholic Church that was still standing in Pomezia. Together they celebrated over 67 wonderful years of marriage before his passing in May 2015.

She immigrated to the United States in May 1955, arriving in New York Harbor. She worked as a beautiful, talented seamstress in Brooklyn. After her son was older, she worked in Manhattan for famous designers, including Leslie Fay Company, Kaspar and Nolan Millers Dynasty Collection. After many years of working hard, they retired in Florida, where they spent 20 wonderful years. She and her husband travelled extensively during retirement.

She was a delicious cook, especially of lasagna, gnocchi, and eggplant rollatini. She was a talented artist and graceful dancer. In addition to being a professional seamstress she was also skilled in croquet and needle point. She made the alter linens for St. Aloysius Catholic Church. In August 2011, they moved to Leonardtown, MD to spend the rest of their years near their son and his family.

In 2015 she wrote a book, Surviving Anzio and had it published. This book was based on her life growing up during the battles of Anzio during World War II. It shares the struggle, hunger and despair that she lived through and survived. It details how she found true love during such hard times and how she came to live the American Dream. She was a member of the Italian American Club in Broward County, FL, the Young at Heart St. Bonaventure Church in Sunrise, FL, and St. Aloysius Catholic Church.

Sonia is survived by her beloved son, Ambrose Cucinotta of Mechanicsville, MD (Darlene); her grandchildren, Stephen Cucinotta of Boca Raton, FL, Jon Michael Cucinotta of Davie, FL, and Allison Cucinotta (Gabe O Campo) of Fort Lauderdale, FL; her step grandchildren, Nick Midgett of Mechanicsville, MD, Casey Pearson of Charleston, SC, Scott Martin (Christina) of Orlando, FL; and Amy Gibson (Mike) of Chattanooga, TN; four step great grandchildren; and many nieces, nephews, cousins and extended family. In addition to her parents and husband, she is also preceded in death by her siblings, Maria Di Tommaso Blancodini, Vincenzio Di Tommaso, and Antonio Di Tommaso.

Family will receive friends for Sonia's Life Celebration on Monday, October 3, 2016 from 3:00 to 4:00 p.m. at St. Aloysius Gonzaga Catholic Church, 22800 Washington Street, Leonardtown, MD 20650. A Mass of Christian Burial will be celebrated by Reverend David Beaubien at 4:00 p.m. Interment will be private.

Serving as pallbearers will be Stephen Cucinotta, Jon Michael Cucinotta, Nick Midgett, Casey Pearson, Gabe O Campo, and Devon Irvin. Memorial Contributions may be made to Hospice House of St. Mary's, P.O. Box 625, Leonardtown, MD 20650. Arrangements by the Brinsfield Funeral Home, P.A., Leonardtown, MD.