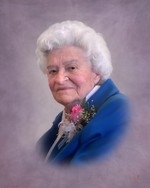 Shirley N. Abell, 89, of Compton, died September 28, 2016 at home. Born August 23, 1927 in Washington, D.C. she was the daughter of the late Mary Constance (Connie) Bostwick Nelson and John Herman Nelson, Sr. Shirley is predeceased by her husband, Joseph Perry Abell on August 31, 2002 after celebrating 54 years of marriage. She moved to St. Mary's County in her early teens when her father helped to establish the Transportation Department at NAS Patuxent River and graduated from St. Mary's Academy.

Shirley is survived by four daughters: Polly Bussler/Frank, Connie Long/Craig, Betty Goddard/C.A and Loretta Vallandingham/JW, 15 grandchildren and 14 great-grandchildren. Shirley is also survived by her brother John H. Nelson, Jr., brother-in-law Al Francis Guy and sister-in-law Loretta (Tiny) Taylor. She is predeceased by grandchild Debra Goddard, her sisters Frances (Frannie) Miesner, Eleanor (Micie) Guy and brothers- and sisters-in-law: J. Frank Abell, Sr., Sister Sara Ann Abell, Sister Mary Pauline Abell, Catherine Colonna, Marie Bassford, Sister Alberta Marie Abell, J. Fulton (Buster) Abell, and Walter Abell.

As a farmer's wife, she spent her time on the family farm, surrounded by family and friends. She could be found helping to butcher hogs, making delicious sausage, canning garden vegetables, or helping pad tobacco for the market. Shirley was a talented seamstress. Her creations include countless wedding gowns, quilts, and prom dresses. She prepared bridal party dresses for the Fashion Center in Leonardtown for many years. She helped many friends in the neighborhood with buttons, hems, and alterations. She should have owned stock in Singer Sewing machines after wearing out quite a few through the years. She worked in the local Post Office for over 30 years, retiring as Compton's Post Master in 1995.

Shirley has been a member of St. Francis Xavier Church for over 50 years and volunteered at the annual Christmas bazaars and Church events. She was a member of the Church quilters' guild who created many, beautiful, hand-made quilt for raffles. Shirley also created the seasonal altar cloths, tabernacle covers, and banners. She participated in the altar society and church cleaning committee for years. Shirley also served as a member of the Catholic Daughters.

Visitation to celebrate her life will be held on Tuesday, October 4 at St. Francis Xavier Catholic Church, Compton, from 5 to 8 pm. Prayers, accompanied by the Knights of Columbus will be said at 7 pm. Mass of Christian Burial will be celebrated on Wednesday, October 5, at 11 am at St Francis Xavier Catholic Church with Fr. Tom Crowley, Fr. Brian Sanderfoot, and Deacon Bill Nickerson officiating. Interment will be in the church cemetery.

Pallbearers for Mrs. Abell will be her grandchildren – Frank Bussler, Jr., Paula Goldsborough, Wes Thompson, Clarence Goddard, Deanna Goddard, and Jake Vallandingham. Honorary pallbearers will be her grandchildren, great-grandchildren, and members of the Church Quilters Guild. Contributions in her memory can be made to the 7th District Rescue Squad, 21530 Coltons Point Road, Avenue, MD 20609; Leonardtown Rescue Squad, 22855 Lawrence Avenue, Leonardtown, MD 20650; or the St. Francis Xavier Manor House Fund, 21370 Newtowne Neck Road, Leonardtown, MD 20650. Arrangements by Mattingley-Gardiner Funeral Home.