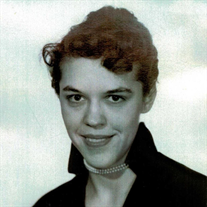 Helen Marie Suchter, "Mema", of Huntingtown, MD, passed away on Saturday, September 24, 2016, at the age of 88. She was born on September 18, 1928 in Scranton, PA, to Lucille (Kaminski) and John Pavlak.

Helen called Huntingtown home for the last 21 years. She loved decorating, cooking, doing various crafts and collecting Victorian dolls. Her greatest joy came from her grandchildren and great-grandchildren. She could never spoil them enough.

She enjoyed traveling with her military husband, especially to Italy and Alaska. She was a passenger on the ship that was part of the rescue of the Andria Doria. During the 1964 earthquake in Alaska, she aided in the safety of many children and infants. She loved children and was always available to help any in need.

Helen was the loving mother of Debra Suchter Foster, Diane Suchter Verrastro and her husband Guy, Mike Suchter and his wife Brenda and Mark Suchter. She was the devoted grandmother of Joshua, Patricia, Gina, Amanda, Melissa, Jessica, John, Trevor, Alyssa and Catherine. She was the great-grandmother of Noah, Joshua, Jacob and Joseph. She is also survived by her cousin Eleanor Bailey and numerous other family and friends. Arrangements by Lee Funeral Home.