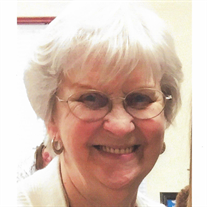 Nancy J. McNabb, 82, of Lusby, MD passed away on Tuesday, September 27, 2016 in Washington, DC. She was born on May 16, 1934 in Washington, DC to Agnes (Nally) and Harry Willard.

In 2001, Nancy retired from Ames Department Stores, where she was the Assistant Manager for over 20 years. She had a number of hobbies, which included, bowling, dancing, going out to eat and working in her yard. She loved to take short trips and also traveling to Florida and Missouri. But her most enjoyable times were spent with her family, her two yorkies and her cats.

Nancy was the beloved companion to Walter A. Shifflet and the loving mother to Robbie Fulcher (Vickey), Michael Fulcher, Sr. and the late Ricky, who passed away in 2010. She was the sister of Carolyn A. Hall, grandmother of 23 grandchildren and 12 great-grandchildren.

In lieu of flowers, memorial contributions may be made to the American Cancer Society, P O Box 22718, Oklahoma City, OK 73123-1718. Arrangements by Lee funeral Home.