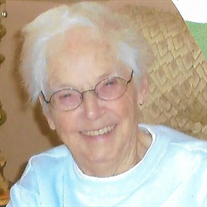 Marvin Elizabeth Cain, 91, of Owings, MD on Tuesday, September 27, 2016 in Prince Frederick, MD. Born in West Virginia she was a daughter of the late William and Pearl (Blevins) Hutton. She was married to the late Wilburn A. Cain who passed away in 1977.

She worked for the Prince Georges County School System as a cafeteria worker for twenty years. She enjoyed playing bingo, scratch off tickets, cheering on the Baltimore Orioles and the Washington Redskins, and spending time with her family.

She is survived by two daughters, Elizabeth Irene Cain and Mary C. Killion, two sons, Richard W. and Michael T. Cain, nine grandchildren, Denise, Joe, Bobby, Nick, Amy, Chris, Josh, Shannon, and Crystal, eight Great-grandchildren, Nicole, Bobby, Natalie, Tristin, McKenna, Patrick, Jaime, and Jessica, and one great-granddaughter Violet. She was preceded in death by a son David and two sisters Vivian and Voncell. Arrangements by Lee Funeral Home.