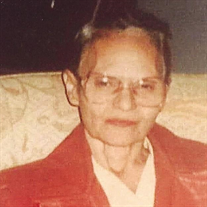 Mary Burnell Proctor, 91, of Indian Head, Maryland died Thursday, September 22, 2016 at the MedStar Southern Maryland Hospital. Burnell was born on Sunday, May 3, 1925 in Bel Alton, Maryland to the late Clements Proctor and Mary Alberta (Harley) Proctor.

She was the oldest of 14 children. She lived with her family on the farm and when she was old enough, she took care of the daily housework and the care of her younger siblings. She was famous for cooking big family meals for all the family gatherings. She enjoyed making sure everyone who visited had plenty to eat.

In addition to her parents, she was preceded in death by two sisters, Elizabeth Gertrude and Elaine Lydia and four brothers, John Maxwell, Thomas Vincent, Thomas Lindbergh and Paul Otis.

She leaves to mourn her death five brothers, Thomas Dona (Theresa), Joseph Sterling, John Melvin, John Clements, and James Hilton (Brenda); two sisters, Virgie Regina and Elizabeth Hazel (Mervyn), ten nephews, five nieces, and other relatives and friends.

A celebration of life service will be held on Friday, September 30, 2016 from 10AM until Mass of Christian Burial at 11AM at St. Ignatius Church, 8855 Chapel Point Road, Port Tobacco, Maryland 20677. Interment in the St. Ignatius Cemetery. Arrangements by Raymond Funeral Service.