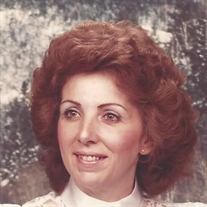 Laila Margaret Lyle, 77, of Dunkirk, MD passed away on September 23, 2016. Laila was born on May 26, 1939 in Washington D.C. to the late Paul Lewis and Melvina Wockley Lewis. Laila is predeceased by her Husband, Kenneth G. Lyle. Son, John Leaberry, and Granddaughter, Ashley Bellosi.

Laila enjoyed Ceramics, Gardening, Cooking, and Baking. Laila retired from Verizon as an Assignment Clerk.

Laila is survived by her Children, Debra Leaberry, Susan Bellosi (John), and Randolph Lyle. Step-Children, Mike Reynolds, Dan Reynolds, Pam Biege, and Sherry Hart. Grandchildren, Anthony Bellosi, Tyler Lyle, Shane Leaberry, Brianna Duffy, and Melah Lyle.

A viewing will be on Thursday, September 29, 2016 from 2-4 pm & 6-8 pm at the Lee Funeral Home. 6633 Old Alexandria Ferry Road. Clinton, MD 20735. A Funeral Service will be on Friday, September 30, 2016 at 11 am at the Funeral Home. Interment will follow at Resurrection Cemetery in Clinton, MD. Arrangements by Lee Funeral Home.