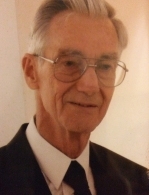 Robert, "Bob" William Bain, 80, of Park Hall, MD passed away surrounded by his loving family on September 23, 2016 at his home. Born on July 22, 1936, in Traverse City, MI he was the son of the late Mary L. Bain and William N. Bain. Bob was the loving wife of Mary Ellen Bain whom he married in Leonardtown, MD.

Bob is survived by his children: Keith Allen Bain (Nelly) of Frederick, MD, Robert Scott Bain (Ruth) of Mechanicsville, MD, and 5 grandchildren. He was preceded in death by his first wife Jean Marie Bain of RI, his son Todd Christopher Bain of Park Hall, MD, and his sister Mary Louise Bain of MI. Bob graduated from Weslaco High School in Weslaco, TX. He moved to St. Mary's County, MD in 1965.

Bob served in the United States Navy for 30 years retiring in 1974. While serving in the Navy, he worked as a Navy Flight Engineer. All Services will be private. Arrangements by Mattingley-Gardiner Funeral Home.