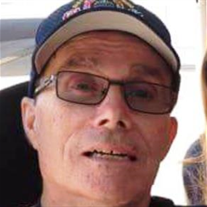 Charles Kelly Butler Jr. of La Plata, Maryland, formerly of Nanjemoy, MD died on Wednesday, September 21, 2016 at the Sage Point Senior Living Center in La Plata. He was 59 years old. Charles Kelly Butler was born on August 2, 1957 in Washington, DC.

Kelly was a "larger than life" man with a constant positive attitude. Kelly grew up in Hillcrest Heights where he spent most of his life. He attended Benjamin Stoddard Junior High and graduated from Potomac Senior High School in 1975.

In 1978, Kelly was hired as an Emergency Police Dispatcher. As an Undercover Police Officer his duties consisted going on stake-outs to control narcotics and the drug deals in the SE District of Washington DC. Because of his love for the fire service, Kelly had a passion for firefighting. His dream was to one day follow in his father's footsteps. His patience paid off and Kelly was hired with the District of Columbia Fire Department with the Heavy Duty Rescue Squad. Kelly continued to pursue his life-long dream as a volunteer at the Silver Hill Volunteer Fire Department and was very passionate about helping others. As time went on, Kelly fought hard to continue to be a volunteer firefighter despite being diagnosed with Multiple Sclerosis.

Throughout the 30+ years, that Kelly suffered with this horrible disease, I never heard him feel sorry for himself or ask why me. He was always in good spirits and loved to laugh watching his favorite TV shows. His happiest times were with his family around him. Kelly never lost his charm with the women nor his bond with the guys. This debilitating and horrific disease forced him to retire in late 1992.

Visitation will be held on Thursday, September 29, 2016 from 2:00 PM to 4:00 PM and from 6:00 PM to 8:00 PM with Firefighters Memorial Service at 3:30PM at the Raymond Funeral Service, P.A. 5635 Washington Avenue, La Plata, MD 20646 where Funeral Services will be held on Friday, September 30, 2016 beginning at 11:00 AM. Interment to follow at Resurrection Cemetery in Clinton, MD. Arrangements by Raymond Funeral Service.