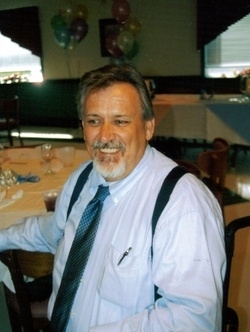 Edward Allan Hammett, 67, of Coltons Point, MD died September 20, 2016 at Hospice House of St. Mary's in Callaway, MD, surrounded by his loving family. He was born on September 23, 1948 in Leonardtown, MD to the late Allan Edward Hammett and Helen Mackey Hammett Landis.

Eddie was a graduate of University of Maryland University College, earning his degree in Technology Management. He was employed by the government at Naval Sea Systems for over 33 dedicated years until his retirement in 2013. With his job he travelled to many destinations, including Egypt, and he enjoyed the different cultural experiences. He obtained a patent will working with the Explosive Ordnance Department.

He loved vacationing in Ocean City after Labor Day, enjoying the ocean view. He was an avid Baltimore Orioles and Ravens fan. He enjoyed Southern Maryland seafood and stuffed ham. His greatest love was for his family, whom he was very close to; he looked forward to spending time with them and enjoying Sunday dinners together.

He was an active thirty year member of Alcoholic Anonymous and was the Regional Manager for Special Needs. He spent many hours volunteering and helping other member including at the Jude House, the Charles County Detention Center, the Southern Maryland Correctional Facility, Pre-Release Center in Charlotte Hall, and many others places.

Eddie is survived by his sisters, Sharon M. Jorden (James) of Lexington Park, MD and Lynn R. Hammett (Irving Vallandingham) of Chesapeake, VA; his aunts, Margaret Corbin of Vass, NC and Bobbie Raferty of Annapolis MD; nieces and nephews, Michael Jorden, Alan Dunbar, David Dunbar, and Kasey Dunbar; his great nieces and nephews, Brandi Maloney, Jenna Jorden, Tucker Dunbar, Ayden Tippett, Maria Jorden, Levi Masters, Tanner Dunbar, Marilyn Masters, Paisley Dunbar, and Ellie Maloney; and many cousins, extended family and friends. In addition to his parents, he is also preceded in death by his brother, George "Gibbons" Hammett and his nephew, James Edward Jorden.

Family will receive friends for Eddie's Life Celebration on Thursday, September 29, 2016 from 5:00 to 8:00 p.m., with a Funeral Service celebrated by Pastor Bell at 7:00 p.m., at Brinsfield Funeral Home, P.A., 22955 Hollywood Road, Leonardtown, MD 20650. A Graveside Service will be celebrated on Friday, September 30, 2016 at 11:00 a.m. at Holy Face Catholic Church Cemetery, 20408 Point Lookout Road, Great Mills, MD 20634.

Serving as pallbearers will be Michael Jorden, Alan Dunbar, David Dunbar, Dickie Russell, Tony Standish, and Tom Gregory. Serving as honorary pallbearers will be his many beloved nieces and nephews. Memorial Contributions may be made to Hospice House of St. Mary's, P.O. Box 625, Leonardtown, MD 20650. Arrangements by the Brinsfield Funeral Home, P.A., Leonardtown, MD.