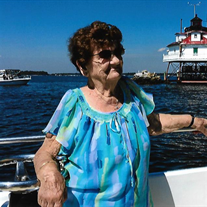 Concetta G. Benefield, 96, of Calvert County, MD passed away on September 17, 2016 after a brief illness. She was born in Washington D.C. and was one of seventeen children born to Fortunato Gioffre and Maria Briganti.

She lived most of her life in southern Maryland. After graduating from high school, she worked with the Internal Revenue Service. She later assisted her husband with his real estate and new home construction business. She lived her Catholic faith and had a passion for flowers and gardening.

Above all she loved being a mother to her four children: Stanley Benefield Jr. and his wife Debra; Mary Harris and her husband Robert; Gina Benefield; Patsy Horst and her husband Bernie. There are ten grandchildren: Shaina Fisher; Rebecca Moran; Joshua Benefield, Timothy Horst; Bryan Ament; Jennifer Burnett; Lysa Wilburn; Jamie Tucker; Catie Horst; Sarah Belcher and their respective spouses.

She also had 17 great grandchildren. They all respected and adored being around her.She was preceded in death by her loving husband, of 50 years, Stanley E. Benefield, Sr. She had a smile and kind word for everyone she met and will be truly missed by her family and friends. Arrangements by Lee Funeral Home.