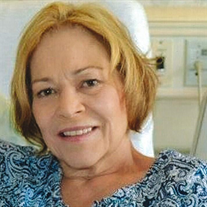 Leora "Jeanette" Sabol, 62, of Waldorf, Maryland, died September 16, 2016. She was the daughter of the late Donald Edward Harden and the late Norma Louise Poulliard Harden.

Jeanette was a Legal Secretary for 15 years at U.S. Savings & Loan in Washington, DC and was a member of the New Life Wesleyan Church in La Plata, Maryland. She enjoyed being with her children and grandchildren, trips to the beach, shopping, watching Dr. Phil, and going out to eat. In her earlier years, she was an active PTA mom, dance & gymnastics mom, and was always committed to spending time with her children.

She is survived by her son, Timothy Leming; her daughters, Kathryn Lowry and Teresa Gunderson and husband Leif; her brother, Donald Harden; her grandchildren, Danielle, Hana, Kassidy, Kasey, Aiden, Elijah, Easton, and Scarlette; and her great-grandson, Victor.

Friends received on Monday, September 26, 2016 from 2-4PM with a Memorial Service at 4PM at Raymond Funeral Chapel, 5635 Washington Avenue, La Plata, Maryland 20646. Memorial contributions in Jeanette's name may be sent to United Network of Organ Sharing. Arrangements by Raymond Funeral Service.