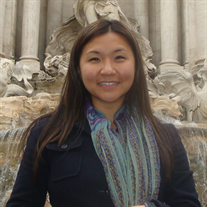 Lana Woo Hiland was born on February 14, 1982 to the parents of Chul Jin and Jungae (Jenny) Chung in Seoul, South Korea. At the age of two, her family moved to Silver Spring, MD where Lana attended Montgomery County Public Schools. Later, she completed a Bachelor's degree at the University of Maryland, College Park, majoring in Sociology. Thereafter, Lana secured a rewarding career at the U.S. Department of State in the Office of Human Resources where she received countless awards, recognition, and accolades for her outstanding work and contributions.

She married Charles Hiland in August 2012 and relocated to Waldorf, MD. This union was blessed with two children, Emilee Hiland and Benjamin Hiland. Lana enjoyed reading, cooking, shopping (and more shopping), singing, knitting, playing poker and spending quality time with friends and family.

Lana will be deeply missed by everyone who knew her, especially close friends and family. She is survived by her husband, Charles Hiland; daughter, Emilee Hiland; son, Benjamin Hiland; family dog, Milo; mother, Jenny Chung; father, Chul Jin Chung (deceased); sister, Christine Chung; mother-in-law, Deborah Hiland; father-in-law, David Hiland; brother-in-laws, Adam and Brian Hiland; sister-in-law, Chloe Hiland; nieces, Arianna and Karina Hiland; and a host of extended family and friends.

Friends received on Saturday, September 24, 2016 from 10AM until time of Funeral Service at 11AM at Grace Church Waldorf, 13000 Zekiah Drive, Waldorf, MD 20601. Please send all expressions of sympathy to Raymond Funeral Service, PA, 5635 Washington, Avenue, La Plata, MD 20646. Contributions may be made to National Alliance on Mental Illness (NAMI), PO Box 62596, Baltimore, MD 21264-2596 or www.nami.org in honor of Lana's memory. Arrangements by Raymond Funeral Service.