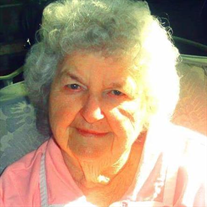 Mary Jane Gibson, of Prince Frederick, MD passed away on Monday September 19, 2016 peacefully in her home surrounded by her family. She was preceded in death by her beloved husband, Paul Gibson in 1989. She is survived bay a son Steve Gibson of Prince Frederick, a daughter Barbara O'Barr and her husband Wes of Huntingtown and a son Richard Gibson and his wife Jan of Prince Frederick. She is also survived by her sister Betty Drew of Connersville, IN.

Mary Jane leaves her grandchildren Joey O'Barr and wife Katie, Timmy O'BArr and wife Crystal, Becky Hammond and husband Wayne, Brittany Kirby and husband CJ, Erin Hardy and Kara Gibson. She also leaves great-grandchildren Jordan, Gavin, Ryan, baby Luke, Layla, Dominic, Cassidy, Chloe, Delaney, and Dallas.

She was born on July 29, 1927 and was raised in Connersville, IN. In 1945 she moved to Washington, DC with an opportunity to work for the United States Navy. In her time in DC she met her husband where they made a wonderful family while residing in Landover Hills, MD for many years. She made the move to Prince Frederick, MD in 1995 and has enjoyed the last 21 years in her home surrounded by family and friends.

Mary Jane was lovingly called "Gaga" by all that love her. She was long known for her infectious smile and laughter, numerous meals and desserts, and her loving spirit to all that have had the pleasure to know her. Her entire family will miss her immensely, and will live to keep her legacy and her passion for her family alive.

In lieu of flowers donations can be made to Calvert Hospice, P.O. Box 838, Prince Frederick, MD 20678. www.calverthospice.org. Arrangements by Lee Funeral Home.