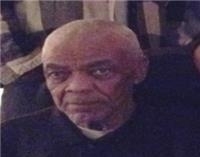 Benjamin McGuire "Bee" Countiss II, 89, of Chaptico, MD went to be with the Lord on Saturday, September 17, 2016. Bee (also known as Bee Parr) was born in Washington, DC on January 19, 1927 to the late Mary Ellen Parr and Benjamin Countiss I.

He attended school in St. Mary's County in Bushwood, MD. After finishing school he went on to farm the land of family and friends. On June 10, 1950 he married Caroline Thomas. Out of this union they were blessed with six children, Ernestine, Mary Ellen, Benjamin, Kevin, Charles, and Winfred. They also raised Shelia and Jeffrey as their own.

Bee worked in construction for 45 years in Washington, DC. He was a member of the union during his career. After retiring in the late 70's, he became an avid gardener. He took pride in planting his vegetables, mowing his lawn (or shall we say kicking up stones) and driving to Jimmy Hurry's store or Leonardtown for no known reason.

During his battle with Alzheimer's, he kept it very real. He said what was on his mind and no matter how many feelings he hurt, they would always come back the next day. Just ask Mary Ellen, she was told to leave a time or two.

Bee was preceded in death by his parents, Mary Ellen and Benjamin Countiss I; one brother, James Parr and two sisters, Martha "Tiney" Butler and Florence Parr. Bee leaves to cherish his memory his loving and devoted wife of 66 years, Caroline Countiss; daughters, Ernestine Thomas, Cynthia Murray, and MaryEllen Dorsey (Cecil); sons, Henry Herbert, Joseph Countiss, Benjamin Countiss III, Kevin Countiss (Audrey), Charles Countiss (Anita), Winfred Countiss (Ann), Shelia Thomas and Jeffrey Somerville (Debbie).

He also leaves 19 grandchildren, 42 great grandchildren, sisters-in-law, Rose Anna Shade, Agnes Queen, Elizabeth Dickerson and Barbara Ann Thomas, one brother-in-law, Charles Butler and a host of nieces, nephews and other relatives.

Family and friends will unite on Friday, September 23, 2016 for visitation at 9 am until Mass of Christian Burial at 11 am at Sacred Heart Catholic Church, 23080 Maddox Rd, Bushwood, MD 20618. Interment will follow at Queen of Peace Cemetery, Helen, MD. Father Charles Gallagher, Our Lady of the Wayside Church, will be officiating. Arrangements by Briscoe-Tonic Funeral Home.