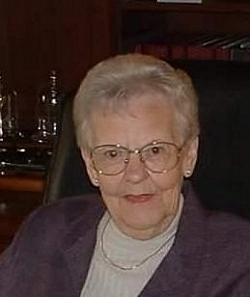 Eleanor Lee Denton, 87, of Port Republic, Maryland passed away on September 19, 2016 in Prince Frederick, Maryland. Eleanor was born on April 11, 1929 in Broomes Island, Maryland to the late Hezeakiah C. and Mary Parks Elliott.

Eleanor was born and raised in Broomes Island and lived her entire life in Calvert County. She worked for Warren Denton Seafood Company, the first Drug Store in Prince Frederick, and as Secretary for Rausch Funeral Home. She was a devoted homemaker, wife, mother, grandmother, great grandmother and loved cooking for her family and special occasions.

Her hobbies included crabbing, fishing, crocheting, bowling, playing cards, bird watching, and word puzzles. Her passion was watching the ORIOLES play, win, loose, or draw. She was a member of the Calvert Elks Lodge #2620, and the Dunkirk Volunteer Fire Department Ladies Auxiliary.

Eleanor was the beloved wife of the late Carlysle Marcellus Dove and the late John Lewis Denton. Devoted mother of Brenda L. Herring and her husband Keith, Linda "Lindsey" Sturdivant, and Lorie M. Day and her husband Joseph. Step mother of Teresa Denton Smithson and her husband Clyde, John H. Denton, and Belinda Denton Risinger and her husband James. Grandmother of Troy B. Herring and his wife Emily, Kurt M. Herring and his wife Charrise, Wendy R. Carl, J. Ryan Sturdivant, and Aaron L. Day. Step Grandmother of Andrew Clark and his wife Jackie, Emma DeMarr, John L. Denton, Haley A. Denton, and Malina I. Denton.

She is also survived by her Great Grandchildren, Kaya, Lily, Marshall, and Wyatt Herring and a Step Great Grandchild Isabella DeMarr. Eleanor was preceded in death by her siblings, Jeanette Stafford, Geraldine Hassett, Mazie Monnett, Anna Mae Denton, H.C. "Duck" Elliott, Jr., and Jean Rutledge.

The family will receive friends on Saturday September 24, 2016 at the Rausch Funeral Home, 4405 Broomes island Road, Port Republic, MD from 1 PM to the time of a Celebration of Life Service at 3 PM. A private interment will be in Southern Memorial Gardens at a later date. Memorial contributions may be made to either COPD Foundation or Calvert Hospice. Arrangements by Rausch Funeral Home.