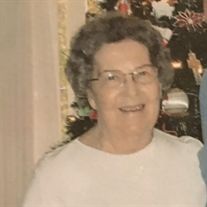 Virginia Dare "Jenny" Rehovich, 85 of Port Tobacco, Maryland died September 18, 2016 at Genesis Waldorf Center.

Jenny was a day care provider at her residence for 26 years and a member of Sacred Heart Catholic Church in La Plata, Maryland where she was a member of both Sacred Heart and St. Ignatius church choirs. She was a rosary and prayer group leader for 13 years with the church Sodality and helped do the annual Christmas concert at Sacred Heart Church.

She was the daughter of the late Newman Addison Pollard and the late Carolyn Bernice Williams Pollard. She was also predeceased by two infant twin daughters and one granddaughter, Tish.

She is survived by her husband, John R. Rehovich; her son, Richard Rehovich; her daughters, Stacy Howard and husband Travis and Debra Padgett and husband Barr; her brother, Elmere Lewis Pollard; her sisters, Ann Apperson, Peggy Hamlett, and Betty Ginther; and her grandchildren, Alexa, Ashley, Ryleigh, Justin, Tyler, and Dean.

Friends received on Friday, September 23, 2016 from 9AM until Mass of Christian Burial at 10AM at Sacred Heart Catholic Church, 201 St. Mary's Avenue, La Plata, MD 20646 officiated by Fr. Larry Swink. Interment to be held on Wednesday, September 28, 2016 at 1PM at MD Veterans Cemetery, 11301 Crain Highway, Cheltenham, MD 20623. Memorial contributions in Jenny's name may be sent to Sacred Heart Catholic Church (201 St. Mary's Avenue, La Plata, MD 20646) or The Crohn's and Colitis Foundation of America (National Processing Center, PO Box 1245, Albert Lea, MN 56007-9976). Arrangements by Raymond Funeral Service.