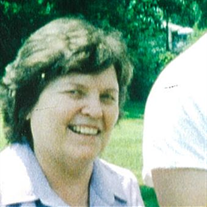 Mary was of the Catholic faith and was a member in her youth at St. Ignatius Catholic Church at Chapel Point, MD and later in her adult life at Mt. Calvary Catholic Church in Forestville, MD. She is the daughter of the late Charles Lawrence Garner and the late Mary Tynan Goldsmith Garner.

Mary worked at an Underwriter for Geico Insurance Co. for 10 years before becoming a homemaker and raising her two sons.

She is preceded in death by one brother, Charles Lawrence Garner, Jr. She is survived by her two sons, John Leonard Smith and James Richard Smith; three sisters, Nancy St.Clair, Peggy Bowling, and Betty Lou Hardy; and two grandsons, Michael Patrick Smith and William Richard Smith.

Graveside services and Interment with her family surrounding her will take place at St. Ignatius Catholic Church Cemetery at Chapel Point in the Garner family plot. Memorial contributions are asked in Mary's name to the St. Ignatius Catholic Church at Chapel Point, 8855 Chapel Point Road, Port Tobacco, MD 20677. Arrangements by Raymond Funeral Service.