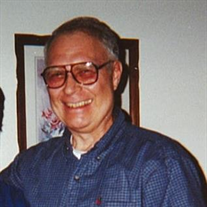 James "Carl" Grumbine, 74, of White Plains, Maryland, died September 15, 2016. Carl was born in Harrisburg, Pa in 1942 and moved to Maryland in 1958 where he graduated from Oxon Hill High School in 1960. He is the son of the late John Clark Grumbine and the late Hannah Catherine Grumbine.

He joined the Marines in 1961 and was honorably discharged in 1967. He was employed by C&P Telephone Company for over 20 years where he met his wife Joan. They were married for over 49 years. They worked together to build their home in White Plains, Maryland in 1975. He was known as coach (Carl) at SMYO and Head Cub Master of Pack 415. He loved reading, writing, playing the Lottery, and watching the Washington Nationals and Washington Redskins.

He is survived by his wife, Joan L. Grumbine; his sons, Steven D. Grumbine and fiance Melanie Andrews and Brian M. Grumbine; his daughter, Jennifer S. Upchurch and husband Michael; his brothers, Ronald Grumbine, John Grumbine, and William Grumbine; his sister, Karen Grumbine; and his grandchildren, Cassandra, James, Drew, Kyle, MacKenzie, Laura Noelle, Jacob, Gabriella, Aidan, Joshua, Olivia, and Cameron.

He is to be cremated and a Celebration of Life will be held at a later date. Memorial contributions in Carl's name may be sent to Hospice of Charles County, 2505 Davis Road, Waldorf, MD 20603. Arrangements by Raymond Funeral Service.