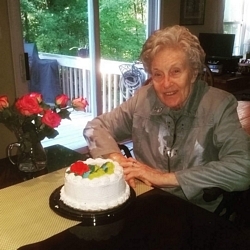 Eva C. Albright, 86, of St. Leonard, MD passed away on September 14, 2016 in St. Leonard, MD. Eva was born on October 12, 1929 in Macon, GA to Carlton and Eva Jordan.

Eva was preceded in death by her parents, loving husband Leo E. Albright, and dear son Bruce Albright. She is survived by her daughter Karen Morley and her husband Darryl of St. Leonard, MD. She is also survived by her grandchildren, Tyler and Brynn Morley, Krystin Gross and Kelsey Webber, and five great grand children.

Services for Eva Albright will be held at a later date. Arranements by rausch Funeral Home.