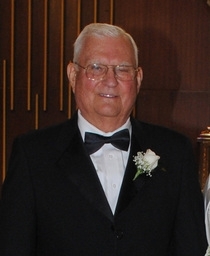 William "Al" Alfred Grez, 85 of La Plata, MD passed away on September 12, 2016 in La Plata, MD. Al was born on September 9, 1931 in Wilmington, DE the son of Joseph and Stella Grezlikowski. He is preceded in death by his parents, his brother, Eugene Grez, and his first wife of 50 years, Patricia Filacheck Grez.

Al is survived by his loving wife, Barbara Garner Fennell Grez; his three sons, Joseph Grez (Linda), John Grez (Dawn) and Michael Grez (Tian); his two daughters, Mary Grez and Ann Hughes (Patrick); his grandson, Evan Meckelnburg; six granddaughters, Michelle Groner (Kevin), Mary Thornton (Justin), Amanda Sykes, Marissa Hughes, Caren Meckelnburg and Anna Grez; and two great-grandchildren, Jacob and Hailey Thornton.

Al is also survived by two stepsons, William Fennell (Mary) and Robert Fennell (Susan); two stepdaughters, Susan Silverzahn (Irwin) and Mary Virginia Duckworth (William); five step grandsons, Timothy Fennell (Stacey), David Fennell (Korrie), Daniel Fennell, James Fennell, and Thomas G. Holmes (Christan); three step granddaughters, Katie Richey (David), Kristy Fennell and Alexandra Fennell; four step great-granddaughters, April Fennell, Kendyl Fennell, Karsyn Fennell and Olivia Richey; six step great-grandsons, Michael Fennell, Thomas J. Fennell, Caden, Leo and Van Holmes and Cameron Krell; and lastly, one step great-great granddaughter, Aubree Mclain.

Al was a graduate of the Pennsylvania Military College and served as a Lieutenant in the Army. His 46-year career as a Civil Engineer included work for the Army Corps of Engineers, the Panama Canal Company, the Naval Facilities Engineering Command, the Army National Guard and the Pennsylvania DOT.

Al enjoyed music (he played trumpet in community bands and sang in several choirs), his beloved Catholic religion and fishing.

The family will receive friends on Sunday, September 18, 2016 from 6-8PM, with Prayers at 7PM at Arehart-Echols Funeral Home, 211 St. Mary's Ave., La Plata MD. A Funeral Mass will be held on Monday, September 19, 2016 at 10AM at Sacred Heart Catholic Church, 201 St. Mary's Ave., LaPlata, MD. Interment will be held on Tuesday, September 20, 2016 at St. Catherine's of Siena Church in Quarryville, PA. Arrangements by Arehart-Echols Funeral Home.