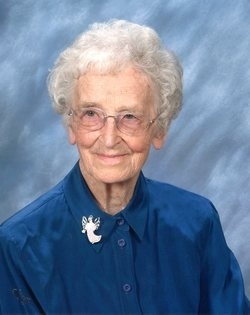 Elna Linnea Filipson Helgerson, 97, of Lexington Park, MD passed away on September 12, 2016 at MedStar St. Mary's Hospital, Leonardtown, MD.

Elna was known to her 14 grandchildren, 19 great-grandchildren, and neighborhood friends as "Grama Doc." Depending on the grandchild, the nickname derived from Elna's husband, a naval medical officer, or the dock at her waterfront home on Town Creek, or from the ducks that were fed in the yard. She was delighted to share the moniker with dear friend and next-door-neighbor Alice Dougherty, whose grandchildren know her by the same name!

Elna was born on July 11, 1919 in Attleboro, MA, the daughter of the late David and Ellen Filipson, both of Swedish descent. Her younger brother Milton Filipson died as a result of a car crash while riding his bicycle at the age of 12. After Elna graduated from High School in Attleboro, she attended Massachusetts State Teachers College in Bridgewater, MA, and graduated with a BS in Education. She taught school for several years. While stationed in Virginia Beach, she taught at Baylake Pines Country Day School, Virginia Beach, VA. Education was always important to her and she returned to school and received her Master's Degree in Education from Old Dominion University while living at the Naval Station in Norfolk, VA.

She married Arthur Helgerson, a Navy Medical Officer, in 1944 and made her homes up and down the Atlantic Coast. Elna lived in homes from Canada to the Southernmost Point of the USA, including: Newport, RI; Newfoundland; Reading, MA; Chincoteague, VA; Rockville, MD; Kittery, ME; King of Prussia, PA; Virginia Beach, VA; London, England; Norfolk, VA; Key West, FL; McLean, VA; and finally settling in Maryland upon retirement. She met the Queen of England at a garden party, travelled throughout Great Britain, Europe, the Middle East, ancient Rome, and Athens, visited the great pyramids of Egypt, and rode a camel! She brought her children on trips, encouraged their love of travel, and fostered an appreciation of other cultures. She welcomed and entertained friends and family in every home.

Wherever she lived, she was an active member of the local church community. She was an Elder in her church. Elna and her husband supported the relocation of Patuxent Presbyterian Church to its current location on Route 4, where it has flourished. She served on the Scholarship Committee of the St. Mary's County Women's Club and supported Arthur's interest in genealogy through participation in the St. Mary's County Genealogy Society, including multiple field trips to Washington DC and research trips to Salt Lake City. In retirement, she and Arthur travelled to vacation and visit their extended family in locations such as Maine, Colorado, Illinois, California, Hawaii, Costa Rica, and Iceland.

Elna's hospitality extended to include various dogs owned by friends and family, stray cats adopted by Arthur, ducks, and other wildlife that visited. She enjoyed training David and Martha's dogs with cookies to entice them into the car for the ride home.

Elna was instrumental in forming a group of knitters that met weekly. Among their good works were boxes of hats for people who needed them and an enormous number of what she called "creatures," small dolls about eight inches long. Her great-grandchildren loved to open the drawer where the soft dolls were kept and were amazed at how the quantity and variety grew. Like her mother, Ellen, her hands were knitting to the end.

She has four children: Linda Vick (Bob) of Schaumberg, IL; Philip Helgerson (Carol) of California, MD; Andrea Fuerst (Darby (deceased)) of Pacific Grove, CA; and David Helgerson (Martha) of Arlington, VA. She has fourteen grandchildren and nineteen great-grandchildren. Her home in Maryland was a hub of activity, drawing together the multiple generations of her family, and extended family of friends, to swim in her pool and in Town Creek, find sharks teeth at Calvert Cliffs, catch blue crabs, sail, visit the Nation's capital, and enjoy her love.

A Funeral Service will be held on Saturday, September 17, 2016 at 2:00 p.m. at Patuxent Presbyterian Church, 23421 Kingston Creek Road, California, MD 20619 with Rev. Michael Jones officiating. Interment will be held on Monday, September 19, 2016 at North Purchase Cemetery, 825 North Main Street, Attleboro, MA 02703. Arrangements by the Brinsfield Funeral Home, P.A., Leonardtown, MD.