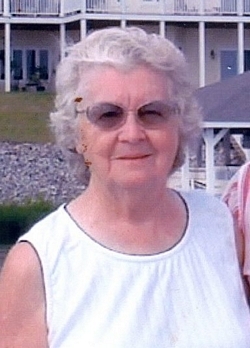 Delmae Frances Roberts, 86, of Lusby, MD passed away on September 8, 2016 at Solomons Nursing Center, Solomons, MD. She was born on January 21, 1930 in Prince Frederick, MD to the late Deshield Bowen and Delma Bowen Gatton and was raised by her father and stepmother Catherine Bowen.

Delmae married her beloved husband, Charles "Haywood" Roberts, Sr., on December 23, 1950 in Prince Frederick, MD and he preceded her in death on January 21, 2013 in Lusby, MD. Delmae enjoyed being a stay-at-home mom to her three children, five grand-children, and seven great grand-children. She enjoyed gardening, spending time with family and friends, crossword puzzles, board games with the grand children, and trips throughout the mid-Atlantic with her children and grandchildren.

Delmae is survived by her devoted children, Franny and her husband David Phifer of Lusby, MD; Kathy and her husband Billy Clay of Lusby, MD; and Charles H. Roberts, Jr., and his wife Jaleh of Patterson, NY; grandchildren Rhonda and Marty Wojciechowski, Travis Phifer, and Sylver and her husband Jason Hinton; Billy and his wife Mable Clay; and Stacy and her husband Andy Clas; great grandchildren Dreyden, Madison, Trendin, Maci, Jaxon, Billy, and Emma. She is also survived by numerous sisters, nieces, and nephews.

A Memorial Service will be held on Thursday, September 15, 2016 at 11 am in the Kingdom Hall of Jehovah's Witnesses, 20770 Seth Court, Callaway, MD 20620. Interment will be private. Arrangements provided by Rausch Funeral Home, P.A., Lusby, MD.