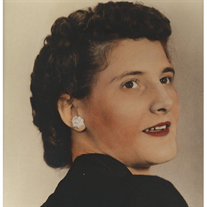 Catherine Imogene Goldsmith Hayes, of La Plata, Maryland passed away on September 10th, 2016 at the Hospice House of Charles County, with her loving husband, Harold, by her side. She was 84 years old. The oldest of five siblings, Imogene was born on May 28th, 1932 in Spring Hill, MD to the late Kathleen Elizabeth Rice Goldsmith and late Archie Theodore Goldsmith.

She married Harold Hayes of La Plata, Maryland on March 31st, 1951 and was his loving wife for 65 years until her passing. She was fondly known as "Imogene" to her friends and family, "Teeter" to her sisters and relatives, and either "Imo" or "Granny" to her grandchildren and great grandchildren.

Imogene is survived by her husband, Harold, and their children: daughter, Catherine Roberta Hayes of La Plata, MD and son, Harold Robert, Jr. (Mary) of Smithfield, VA; grandchildren: Christopher Michael Furbush (Katie) of Ranson, West Virginia; Kelli Renee Lawson (Kenny) of La Plata, MD; Katherine Edwina Hayes and William Coulbourn Hayes of Smithfield, VA; and great-grandchildren: Jacob Furbush, Jenna Furbush, Joseph Beard, Sara Beard, and Payton Lawson.

She was preceded in death by her parents and her siblings: Hilda Mae Arnold of Avenue, Maryland; Maddie Irene Abell of Port Tobacco, Maryland; Mary Joanne Beattie of La Plata, Maryland; and Archie Harold Goldsmith of Newburg, Maryland.

She attended Archbishop Neale School and graduated from La Plata High School in 1949. She started working at the age of 17 with C&P Telephone and retired from Verizon in 1985, after 36 years of employment. After retirement she volunteered as a cafeteria helper for the Charles County School System, was an active member of the local VFW, and a life member of the VFW Ladies Auxiliary.

After her marriage to Harold she attended the La Plata United Methodist Church, becoming a member in 1957. She faithfully served the church for almost 60 years. She loved to cook, garden, and volunteer her time to various organizations. She loved babies and small children, and especially loved her grandchildren and great children who also adored and loved her.

The family will receive friends and relatives on Thursday September 15th, 2016 from 2-4 PM and 6-8 PM at the United Methodist Church of La Plata, 3 Port Tobacco Road, La Plata, MD 20646. The funeral service will be held at 11 AM on Friday September 16th, 2016 at La Plata United Methodist Church, followed by burial at the cemetery at St Ignatius Chapel Point, 8855 Chapel Point Road, Port Tobacco, MD 20677. Rev. Dr. Bruce A. Jones will officiate the services.

Pallbearers will be Peggy Beattie, William Beattie, Michael Abell, William Hayes, Christopher Furbush, and Timothy Plumer. In lieu of flowers it is requested that donations be made to the Hospice of Charles County (www.hospiceofcharlescounty.org), La Plata United Methodist Church, or St. Ignatius Catholic Church at Chapel Point. Arrangements by Raymond Funeral Service.