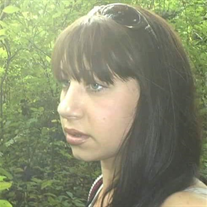 Nina Christine Hodges, 35, of Charlotte Hall, MD died suddenly on September 9, 2016. Nina was a homemaker. She was a very avid volunteer with many churches and homeless shelters where she assisted with meals. She was a good mother to her three children and a great wife. She loved nature and being outside. Her family was her life.

She was the daughter of Nicholas John Cusato and Joyce Ann Baxley Cusato. In addition to her parents, she is also survived by her husband of six years, David Bern Hodges, Jr.; her children, Jaysen Hodges, Vytali Hodges, and Mathyas Hodges; her brother, Nocholas Cusato; and her sister, Angela Cusato.

A memorial service for Nina will be held by the family at a later date. Arrangements by Raymond Funeral Service.