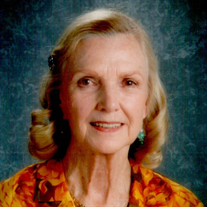 Shirley Ann Powley, 80, of Prince Frederick, MD passed away on Wednesday September 7, 2016 surrounded by her loving family. She was born on April 26,1936 in Morgantown, WV to the late Eddie and Evelyn Allgauer.

Shirley graduated from Morgantown High School in 1954. She was a majorette in the marching band and was runner up for Miss Morgantown. Shortly after graduation she moved to Kansas City to become an American Airlines Stewardess. In 1960 she married her high school sweetheart, Kenneth Powley, and moved to Maryland where she raised her three daughters. She was a bookkeeper for Northwestern High School in PG County, retiring in 2011.

She was a talented artist and her biggest accomplishment was obtaining her "Certified Decorative Artist" certification from the National Society of Tole and Decorative Painters. She also enjoyed golfing, traveling, and spending time watching her grandchildren at their many sporting events.

Along with her husband she is survived by her sister Mary Alkire of florida, brother Franklin Allgauer of Tennessee; Daughters Kelly McDaniel of Virginia Beach, VA, Kerry Hardy (James) of Huntingtown, MD, Kim Johnson (Edward) of Port Republic, MD; Grandchildren Nicholas, Savannah, and Marshall Hardy; Russell, Paul and Riley Johnson; Travis Short and Samuel McDaniel.

A memorial service will be held, Tuesday, September 13, 2016 from 5 to 7 pm at Lee Funeral Home Calvert, 8200 Jennifer Lane, Owings, MD 20736. Through her beautiful paintings, we are reminded of what a beautiful wife, mother, and friend she was. In lieu of flowers the family requests contributions be made in memory of Shirley to Hospice of Calvert County P.O. Box 838, Prince Frederick, MD 20678. Arrangements by Lee Funeral Home.