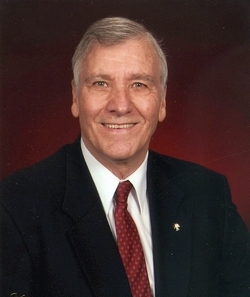 David J. Kallal, 85, of Dunkirk, Maryland loved life to the fullest. He passed away quietly on September 7, 2016, at the Burnett Calvert Hospice House, after fighting cancer for more than six years. He leaves behind his beloved wife, Shirley Landwehr Kallal, after more than 62 years of marriage.

He also leaves behind five sons, Stephen, Lawrence (Carol), Bruce (Lucy), Mark (Mandy) and Jeffrey (Cheryl), eight wonderful grandchildren, Kristen Karp (Dustin), Robert Kallal (Laura), Lauren Kallal, Jennifer Kallal, Phillip Kallal, William Kallal, Jake Kallal, and Cadie Kallal, and one great-grandchild, Tyler Karp. Dave was the 12th child born to Joseph and Teresa Kallal in Jerseyville, Illinois. He has a brother, Victor (107), and a sister, Rosa Lee Hayes (100), surviving him as well.

Dave graduated from the University of Illinois (Urbana/Champaign). He was a career Air Force officer who flew special missions all around the world. During the Vietnam War, he was Ambassador Ellsworth Bunker's pilot. After his retirement from the Air Force as a Lieutenant Colonel, he was employed by Prince George's County government for over twenty years.

Dave was a very active member of the St. Anthony's Catholic Church in North Beach, Maryland. He was a Fourth Degree Knight of Columbus, altar server, Eucharist minister, visitor to the home bound, and did many projects for the Ladies of Charity, the Knights of Columbus, and blood drives, among others.

In lieu of flowers, please make a memorial donation to the St. Anthony's Ladies of Charity in North Beach, Maryland, or the Burnett Calvert Hospice House, in Prince Frederick, Maryland. Arrangements by Rausch Funeral Home.