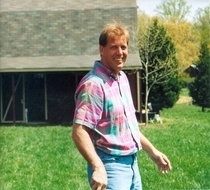 Chris Clark, 57, of La Plata, MD passed away on September 5, 2016 at his home after fighting a courageous battle with Leukemia. Chris was born on April 26, 1959 in Washington, DC to Arvel B. Clark, Jr. and the late Helen Klahr Clark. He is also preceded in death by his beloved daughter, Lauren Clark.

Chris is survived by his wife, Teresa Clark; son, Christopher Clark; daughters, Hannah Clark and Klahr "Kacie" Clark; brother, Bernie Clark (Lori); sisters, Denise Hall (Kirby), Stephanie Potter (Mark) and Allison Macauley (Jeff); as well as loving in-laws, nieces, nephews, and a host of long-time friends.

Chris was a beloved father, friend and coach. He enjoyed coaching for the Blue Knights Football team, youth basketball and girls travel softball teams. Chris was also instrumental in establishing Girl's Lacrosse in Charles County. He was an avid golfer and music fan. Chris was known for his bright smile and positive attitude. He will be dearly missed by all.

The family will receive friends on Sunday, September 11, 2016 from 1:00 to 5:00 PM at Arehart-Echols Funeral Home, 211 St. Mary's Ave., La Plata, MD. A Funeral Service will be held at 11:00 AM on Monday, September 12, 2016 at Grace Lutheran Church, 1200 Charles St., La Plata, MD; Interment to follow at Trinity Memorial Gardens, 3221 Mattawoman-Beantown Rd., Waldorf, MD. In lieu of flowers, the family requests donations be made in Chris' memory to the Leukemia & Lymphoma Society at LLS.org. Arrangements by Arehart-Echols Funeral Home.