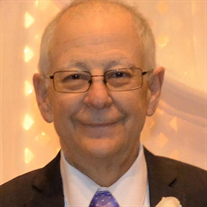 Kenneth "Ken" P. Nagel of Huntingtown, MD passed away on Monday, September 6, 2016 at the age of 62. He was born on January 15, 1954 in New York to Eleanor (Gsottschneider) and Kenneth B. Nagel. He graduated from John F. Kennedy High School, Plainview, NY in 1971 and from Rensselaer Polytechnic Institute, Troy, NY in 1976. He received his Masters of Civil Engineering from Rensselaer Polytechnic Institute, Troy, NY in 1977.

Ken joined the United States Air Force in 1977, following his graduation from RPI and flew all over the world and retired as a Lt. Col. in 1998. He flew as a commercial pilot for numerous airlines until 2015, when he had to take medical leave.

He leaves behind his loving wife, Theresa (Fernholz); son, Eric, both of Huntingtown, MD; daughter, Nicole and husband, Allen Enfield of Prince Frederick, MD. He is also survived by his father, Kenneth B. Nagel of Palm Coast; FL, granddaughter, Harper Grace of Churchton, MD; uncles and aunts, Lou and Linda Doerrler of Ormond Beach, FL; Walt and Betty Lou Nagel of Rohrersville, MD; Bob Nagel, Adamstown, MD; and numerous cousins, nieces and nephews.

Ken loved life and flying, working on his MG's, going to car shows to display his MG's, watching the New York Giants and the Yankees, playing cards, reading, going to the casino and his granddaughter, Harper Grace. So when you look to the heavens, know that Ken is soaring high above with joy. Arrangements by Lee Funeral Home.