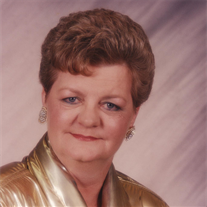 Barbara Lynn Adkins, 77, of Allens Fresh, Maryland, passed away Sunday, August 28th 2016 at the Charles County Hospice House surrounded by her family. Born in Washington, DC to the late Russell B. and Esther H. Clanton. She was a graduate of Southern Senior High School in Harwood, MD.

Mrs. Adkins was a homemaker and devoted mother. She was an avid reader and craft person. She enjoyed gardening, movies, music, and baking. Her German chocolate cake was world famous. She had a wonderful sense of humor.

In addition to her parents, she was preceded in death by her loving and devoted husband, Chief Petty Officer William David Adkins Sr. (U. S. C. G., retired), sisters Shirley E. Moreland and Valerie J. Sexton.

She is survived by a sister, Connie Karpman (Donnie) and a brother Leslie B. Clanton; her children Craig Crotts (Wendy), Cindy Bryant, Kim Pinkard, Wanda King (Anthony), Helen Sisk (Eddie), William D. Adkins Jr., Kelly Oliver (Gary), Kristy McAndrew (Chuck Bowling), Robin Jones (Martin Sprenz) and Yvonne Matthews (Danny). She is also survived by grandchildren Morgan (Heather), Victoria (Caleb), Justin (Helen), Brenda (Jeff), Joshua, Becky (Nick) Jessica, Melissa (Joe) Kimberly (Allen), Kelly (Mark), Virginia, Chyna, Eddie Wayne, Ashley, Jimmy, William and Jonathan.

And her great grandchildren Phoenix, Oakley, Truly, Zoe, Brian, Tristen, Cameron, Ethan, Zackery, Oliver, Alexandra, Jordyn, Aley, Mia, Evander, Jackson, Juliet, Abigale, Dante, Rayne, and Conner. A life long friend Katherine Machande, special friends June Christie, Joanne White and Yvonne Woods.

Memorial contributions may be made to Hospice of Charles County, 2505 Davis Road, Waldorf, MD 20603 or Wounded Warriors Project, 4899 Belfort Road, Suite 300, Jacksonville, FL 32256. The family would like to extend a heartfelt thank you to the staff of Charles County Hospice House, the staff of Kidney Medical Associates, and the staff of Patel Ramanan & Associates. A memorial service will be held at a later date. Arrangements by Raymond Funeral Service.