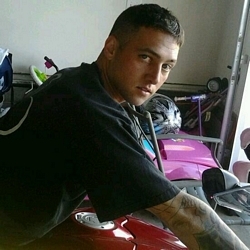 Jeffrey Robert Lehnen Jr., 33, of St. Leonard, MD passed away on August 27, 2016 in Hauge, VA. Jeff was born on February 16, 1983 in Clinton, MD to Jeffrey Robert Lehnen, Sr. and Tracy Esposito.

Jeff was a member of the 101st Airborne, Screaming Eagles. He enjoyed bowling, and the Raiders, but most of all he loved to fish. If there was water, their was a fish to be caught.

Jeff was predeceased by his grandfather Gene Lehnen. Jeff is survived by his wife Glenda Lehnen and daughter Kylea Lehnen of Prince Frederick, MD; father Jeffrey Robert Lehnen, Sr. (Tracy Nalley) of St. Leonard, MD; mother Tracey Esposito of Hauge, VA. He is also survived by his siblings, Joey Lehnen, Jeanna Lehnen, Ray Hayes, Zachary Walker, and his grandmothers, Doris Lehnen and Linda Martin.

The family will be receiving relatives and friends on Thursday, September 8, 2016 from 11:30 AM - 12:30 PM at the Rausch Funeral Home, 4405 Broomes Island Rd, Port Republic, MD 20676. A funeral service will follow at 12:30 PM. Interment will take place at Maryland Veteran Cemetery located in Cheltenham, MD. Arrangements by Rausch Funeral Home.