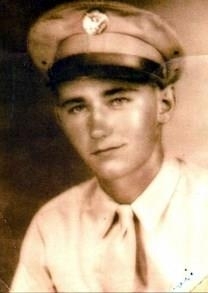 Bernard Edward ("Ed") Lewis of Port Richey, Florida, formerly of Indian Head, Maryland, passed away on August 26, 2016, at the age of 90. Ed was born on his grandfather's farm in Lewiston, North Carolina. He spent his childhood and early youth in Newport News, Virginia. As a young man, he moved with his parents and sisters to Charles County in Maryland.

Ed was a World War II veteran who served under the command of U.S. General Dwight D. Eisenhower in the European Theater of Operations. He was a member of the Anti-Tank Company of the 47th Infantry Regiment and participated in the Rhineland and Central Europe Campaigns. As a 19-year-old, Ed participated in the American Liberation of a Nazi concentration camp outside Dachau, Germany, in April 1945. Though the scenes he witnessed there affected him deeply and in many ways stayed with him for the rest of his life, his faith in God and the goodness of humanity never wavered. Ed worked for many years as the Supervisor of Construction at St. Elizabeth's Hospital, in Washington, D.C. He retired in 1985.

In 1951, he married his beloved, the love of his life, Dora Agnes Jones. He and Agnes were together for 64 years, until her death on August 26, 2015. Exactly one year later to the day, his beloved Agnes took his hand and lifted him up to be with her once again.

Ed was an active and founding member of the Potomac Heights Baptist Church. He faithfully served there as a deacon and board member until he and Agnes retired to Florida in the mid-1980s. In Florida, he regularly attended the First Baptist Church of Elfers.

Ed is survived by his loving daughters, Kayt Lewis and Vickie Lewis Grow; grandchildren Sarah Grow Butler (Joseph) and Samuel Edward Grow; and great-grandchildren Emmry Harlow Grow ("Sweet Pea"), Madyson Grace Butler ("Sweetie Pie"), and Mason Lewis Harold Butler ("Spitfire").

Family and friends are welcomed for a visitation on Friday, September 2, 2016 from 10:00am - 12:00pm at the Huntt Funeral Home, 3035 Old Washington Road in Waldorf. A funeral service will be held on Friday, September 2, 2016 at 12:00pm at the funeral home. Interment will take place immediately following the funeral service at Trinity Memorial Gardens, 3221 Mattawoman Beantown Road in Waldorf.

In lieu of flowers, memorial contributions may be made to the Charlotte Hall Veterans Home and Hospice of St. Mary's. The family is deeply grateful for all the kindness, care, and support given to Ed during his residency at Charlotte Hall and for his peaceful, pain-free, and comfortable departure. He left us easily, knowing he was supported and surrounded by people who loved him. Arrangements by Huntt Funeral Home.