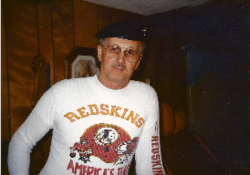 Dennis Dee Guss, 78, of Mechanicsville, MD passed away August 26, 2016 at his residence. Born August 1, 1938 in Wolford, North Dakota he was the son of Donald Dee Guss, and Ella Mae Hanson Guss.

He served in the U.S. Army from 1955 - 1958 and later worked as a welder for the railroads. He also did construction work and was a truck driver.

Predeceased by his parents and brothers Larry Guss, Lloyd Guss and Kermit Guss, Dennis is survived by his wife Betty A. Guss; children, Dennis D. Guss, Jr. of Dahlgren, VA and Lance L. Miller of Cobb Island, MD; brother Donald "Pete" Richard of Mechanicsville, MD; sisters Donna Flemion of Ft. Washington, MD, Betty Reid (Ronald) of Owings, MD and Vanessa "Penny" Farley of Colonial Beach, VA; 7 grandchildren and 4 great grandchildren.

Private arrangements are being handled by Brinsfield-Echols Funeral Home, P.A., Charlotte Hall, MD 20622.