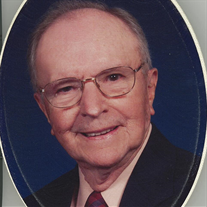 Gerald Birchby Dyson of White Plains, Maryland died on August 22, 2016 on his 93rd birthday at the Charlotte Hall Veterans Home in Charlotte Hall. Born on August 22, 1923 in Mt. Victoria, MD he was the son of the late Geraldine Cooksey Dyson and the late Louis Gideon Dyson. Mr. Dyson was raised and worked on the family farm with his father and brothers.

Upon his graduation from high school, Mr. Dyson went to work for Hughesville Savings Bank. Soon after World War II started, he went into the Army and was in the European Theater. On August 15, 1946, Mr. Dyson was Honorably Discharged. After returning home, Mr. Dyson worked 41 years in the banking industry including Southern Maryland National Bank and the Bank of Southern Maryland.

In addition to his parents, Mr. Dyson was preceded in death by his siblings Helen Hayden, Margaret Albrittan, Sheridan, Walter, Alan and Gideon Dyson. He is survived by his wife of 54 years, Mary Lucille Jenkins Dyson; his daughter Alison Kay Messick; granddaughter Holly Amanda Simpson; nieces Lois Benton, Betty Garner and Janice Rohme; nephews Gerald Hayden and Neil Dyson.

Visitation on Monday, August 29, 2016 from 10 AM until time of service to begin at 11:30 AM at Christ Episcopal Church 112 East Charles Street La Plata, MD 20646 with Reverend Tim Johnson officiating. Interment to follow at Mt. Rest Cemetery, La Plata, MD. Memorial contributions may be made to Christ Episcopal Church P. O. Box 760 La Plata, MD 20646. Arrangements by Raymond Funeral Service.