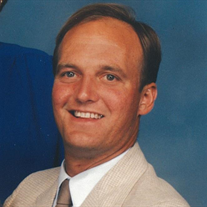 John Daniel Wright of La Plata, Maryland passed away in Washington, DC on August 17, 2016. John was born June 27, 1955 in Richland, Washington.

John graduated from Towers High School in Decatur, Georgia in 1973. He attended the University of Florida and received his Associates Degree from Charles County Community College. He proudly served in the United States Airforce for four years. He continued his military service with over 10 years in the U.S. Army Reserves. He worked as an Intelligence Analyst at Raytheon Corporation in Washington, DC until 2005 when he was forced to retire for medical reasons. He was extremely proud of his military service and serving his country.

He was an advocate for the local Multiple Sclerosis Society and counseled many newly diagnosed patients. He was also an avid sports fan and also loved watching a great movie. Spending time with his family and friends, a good meal and laughs always brought a smile to his face. He was especially proud of receiving his PADI scuba diving certification.

John is survived by his four children: Elizabeth Blair Miles, Allison Patricia Wright, Stephen Andrew Wright, Scott Gregory Wright, former spouse Marian Elizabeth Blair, and his three sisters: Debbie Casey, Vivian Martin, Tracy Theriault, as well as many aunts, uncles, cousins, nieces, and nephews. John is preceded in death by his parents, John Robert and Patricia Ann Wright.

John courageously battled with Multiple Sclerosis for more than 30 years. He also drew great strength from his Catholic faith. Contributions in John's name may be sent to the National Multiple Sclerosis Society, 1800 M Street, NW, Suite 750 South, Washington, DC 20006 or Paralyzed Veterans of America PVA: Donation Processing Center 7 Mill Brook Rd Wilton, NH 03086.

Friends received on Friday, September 9, 2016 from 9AM until time of Mass of Christian Burial at 10AM at Sacred Heart Catholic Church, 201 St. Mary's Avenue, La Plata, Maryland 20646. Interment to follow at MD Veterans Cemetery at a later date. Arrangements by Raymond Funeral Service.